Updates
I've finally gotten around to updating parts of the site. So you can't complain that I'm a total slacker.

Check out the calendar to see the dates and places of all our games and competitions this season. I've also updated the Band History page so that it includes all the shows up to last year. There are a few pictures from the Florida trip last year, but no one has sent me any, so there arent very many. If you have any pictures of any band event please send them to me here.

Don't forget to practice, practice, practice, so that we can win sweepstakes and go to Championships this year.
Posted by Webmaster on August 21, 2005 at 03:23 AM
Save Music Education
Elementary Music Education - Kindergarten through 6th grade - is being eliminated from our schools!!!

There will be a Board Meeting on Thurs. February 24th. at 7:00 pm that you can attend and voice your support for the music program. Talk to Mr. Witten or Mr. Z for directions.

here are some sites that support Music Education

www.themusicedge.com - sign a petition supporting music education

www.amc-music.com
www.supportmusic.com
www.abimusic.com
www.music.org
www.childrensmusicworkshop.com

Studies have proven that kids in music perform better in reading and math, and are more likely to attend college.

Don't let them take our music away! The elementary program is what feeds into our school. If we lose that, then a lot of tallent goes down the drain.
Posted by Webmaster on February 16, 2005 at 05:00 AM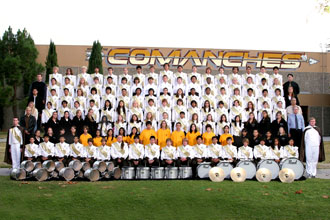 ~/~ Site Map ~/~
Band Calendar
Maps & Driving Directions
Message Board
Pictures
Band History
Special Events (Canyon Classic, Pagentry)
Boosters, Officers, and Student Leaders

Scores
About CanyonBand.com
Terms Of Use